ccm Cross 0069
March 5, 2015
Good News Global Church
Nkulumane, Zimbabwe
ccm Cross #0069

GPS (DMS)    20° 11′ 5.99" S     28° 30′ 44.1" E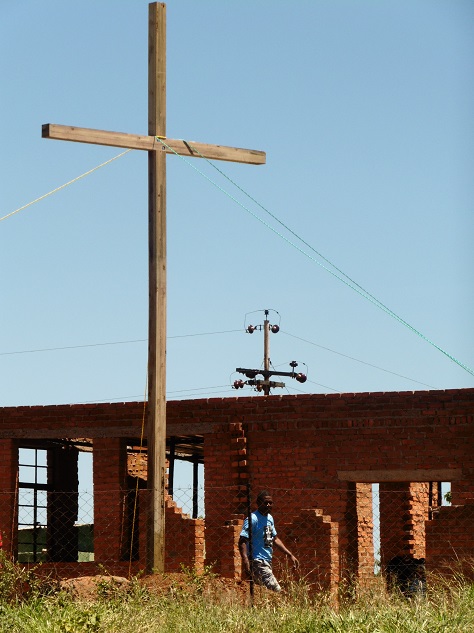 Additional photos after the Testimony
3775-7 cdd Our Walk of Faith
Cyber Daily Devotion
Volume 16 Number 071
Today's Author: Pastor Bill
Scripture: 2 Corinthians 5:7
"For we walk by faith, not by sight" NKJV
Hello. Our names are Temba and Julia Mapani and we are the Senior Pastors of Good News Global Church in Zimbabwe, Africa. This is our Cross testimony of how Jesus Christ is alive and active in our lives.
I am Pastor Julie Mapani. I grew up in Bulawayo, Zimbabwe, number 5 in a family of 14 children. Between them, my father and mother had 9 boys and 5 girls, though only nine of us (6 boys and 3 girls) lived with my parents at any given time.
My Dad was a driver. He drove big trucks and later public transport buses. Mom was at home, attending to the many children. She kept us clean and coordinated. As we grew up, Mom and Dad did not go to church and never taught us anything about Jesus.
Looking back, I believe I was an atheist at heart, but by God's grace, I was the first one in the family to receive Jesus as my Lord and Savior. This happened at the Christian Teachers' College that I attended at age 17.
A college mate told me I was one day going to be carrying a Bible and preaching, something that was far from my mind then. Little did she know — her prophecy would be right on.
The tradition at the college was to invite a preacher to minister Christ to the students at term end. I was in the hall, engrossed in a secular novel, when the preacher caught my attention as he proclaimed, "He was great while in His mother's womb; He was great when He was a boy of 12, and He is great today!" That day, even before the preacher made the altar call, I knew I wanted Christ to come into my heart.
I was on fire for the Lord and wanted all my friends to know this Christ who had changed my life. One of those friends was an ex-boyfriend of mine — Temba Mapani. We had gone out for a short while and when the subject of sex came up, I told him, "Only when I am married". And that was that.
Living in the same city, we still met now and then, but when I talked to him about Christ, Temba would argue so much that I decided to say nothing to him about Jesus anymore.
One very unusual Sunday morning I woke up and the Lord spoke to me, "Today you will meet the man you are going to marry". That was it! I was shocked but happy since I had been praying for a while for the Lord to provide a Christian man for me to marry.
At church, I was looking out for this man. I left to go home — still wondering.
Not more than 5 kilometers (3 miles) away, Temba lived with his father who owned a hair salon at which my sister was employed. That afternoon Temba and his Dad came to my home, looking for my sister.
The moment Temba walked in, something leapt inside me. I resisted it, in my heart saying, "Temba is not a Christian, and he drinks!" And this was evidenced by his big tummy then. But God is God.
A few minutes later, Temba was walking me to the bus and remembering his argumentativeness about God talk, I avoided saying anything about Jesus. Thus one can understand my shock when he came out with, "Tell me about Jesus"!
The Lord immediately opened my mouth and the floodgates poured out! I know God put an anointing on me that afternoon and in less than two hours I asked Temba, "Do you want to receive Christ as Lord and Savior?"
There was no hesitation. And right there on the side of the road, we sat on a bench and Temba prayed the sinner's prayer after me.
I discipled Temba through letters and books that I gave him to read as he now lived and worked in a different city.
I'm Pastor Temba Mapani. I am the eldest in a family of 14 children. In total, my father had 5 wives, one after the other. My mother was the first wife and I was brought up by my paternal grandparents. My grandparents attended a cult fellowship that I hated even as a little boy.
My early youth was full of drinking, smoking and sex. At 16, I met Julie and we went out for about 6 months. Whenever the subject of sex came up, with her it was, "Not until I get married".
At 17 I was already sensing an emptiness that I thought would be cured by my "joining a church" other than the cult. The church I visited was not exactly what I was looking for. The day I got there, they were announcing a fund raiser that involved selling beer, the very thing I was trying to run away from. That turned me away from church for a very l-o-o-n-g while!
After school, I worked several jobs, eventually landing one in a bank at age 24. A bank teller was a very prestigious occupation in those days.
I had many girlfriends in my life, one after the other, but one that had always eluded my sexual escapades was Julie.
Who did she think she was? In reality, she was the only girl I respected.
When I entered Julie's home that day so many years later, I had no idea my life would be changing forever. The emptiness I felt about church and God motivated me to make the statement that led to my life changing experience. While we were walking to the bus I asked, "Tell me about Jesus".
As we walked, Julie poured out words that painted the picture of my life. She talked about how empty one is without Christ and how He alone would fill that void. By the time she had finished her explanation, I was ready. She did not have to ask twice. And there, as we sat on a bench waiting for the bus, I received Christ as my Lord and Savior. I experienced a peace that I could never describe.
Following that, I went back to work in a different town than where Julie was. We communicated by mail and she encouraged me in the things of the Lord and gave me books to read. Within a couple of months I declared my love for her (now devoid of lust as before!).
Only then did she tell me that God had already confirmed to her that I was to be her husband. The moment I finished making my prayer of salvation the Lord said, "This is your future husband." What an awesome God! At the end of that same year, it was wedding bells for us.
Soon after my salvation, I attended a progressive church and two men had a prophecy over me. They said I would fly to other countries, preaching Jesus. I was so excited I wanted to quit my job at the bank and start working for the Lord right then. My pastor in wisdom slowed me down and told me to wait for God's good timing.
After we got married, Julie moved to the town where I lived and worked. We were part of a growing church and were very active in youth ministry. The Lord was using us and we were happy.
A year later our first child, Sharon, was born. We moved back to Bulawayo, Zimbabwe, and our two boys, Takunda and Sheunesu, came along. Again we found ourselves most active in our new church. Before long we were in leadership positions. Wherever God moved us, we would find favor with the pastor and be groomed into leadership.
Ten years after we were married, and with three children in the house, the Lord said, "Now I want the two of you to branch off on your own".
We knew the Lord would be with us.
Our Pastor was sad to see us leave the church, and even shed tears as he prayed for us and blessed us. We had asked him to pray for us privately as we didn't want anyone from the church following us. Pastor was also glad because he knew and told us God's hand was upon our lives.
Julie resigned her teacher's job first, as she had to give a full term's notice. I left my job a few months later. Our walk of faith with the Lord had just begun.
When I left my job, we had flyers printed, inviting people to come to our first church meeting. We said to come early to be sure one would have a seat. We learned that humility is part of ministry when only 24 people showed up, eight of them were relatives and friends. But we were excited that we started with NEW PEOPLE coming to church! From those humble beginnings the Lord has proved faithful to His Word.
Luke 4.18 (Isaiah 61.1) "The Spirit of the Lord is upon Me, Because He has anointed Me To preach the gospel to the poor; He has sent Me to heal the brokenhearted, To proclaim liberty to the captives And recovery of sight to the blind, To set at liberty those who are oppressed". NKJV
Deliverance and healing take place regularly in our church. We venture to say that just about each of the members have received a healing one time or another from the Lord. One lady came to church with a dry hacking cough that had been oppressing her for 9 years. She had visited many doctors but with no lasting relief. Jesus healed her as we prayed and today she is serving the Lord as one of the deaconesses in our church, totally free of the cough. And this is but one of the many, many testimonies of the goodness of Christ.
We are here to serve the poorest of the poor. In a country where the economy is in shambles, many factories having closed down and the number of the unemployed is continually increasing, our church members have little income. Still, the Lord remains faithful and continues to provide for us and for them. As we teach them God's way of success, we see many rise up from the ashes of poverty and stand tall as they give testimony to God's provision.
As for us, God has helped us provide proper education for all three of our children up to university level. The Lord has provided a proper roof over our heads, a reliable vehicle to carry out His work and a decent meal on the table every single day.
We have been married for more than 35 years now. We have three wonderful children who love and are walking with the Lord, one great son-in-law, one sweet daughter-in-law and three of the most amazing grandchildren. For each of them, we thank and praise the Lord.
Our Vision as a church: To minister to the poor and neglected in society (Luke 4.18)
Our Motto as a church: We aim to think, speak and do the Word of God (Joshua 1.8)
Our Mission as a church: To bring God ordained success to all (particularly the poor) through the Gospel
One of our favorite Bible verses is the one on the plaque for the Cross: First Corinthians 1:18 "For the message of the cross is foolishness to those who are perishing, but to us who are being saved it is the power of God" NKJV
Where would we be without the cross? This Cross is notice to all who pass by that there is a church here. Something special happened and this Cross represents it. Step in and learn what happened. This Cross is Jesus reaching out and saying, "I Love You".
Kind regards
Pastors Temba and Julie Mapani
Good News Global Church
Bulawayo, Zimbabwe.
Prayer: Father we love you, I lift this precious couple before you. Their family, marriage and ministry. Thank you for their faithfulness in their walk of faith which brings encouragement to us all. In the name of the Lord Jesus Christ. Amen!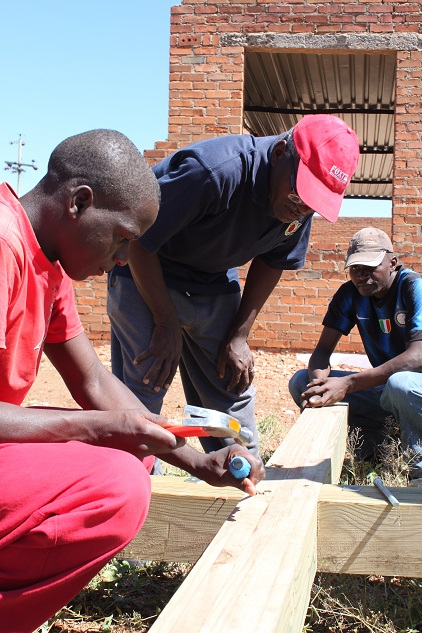 Pastor Temba in the red hat surveys securing the Cross beam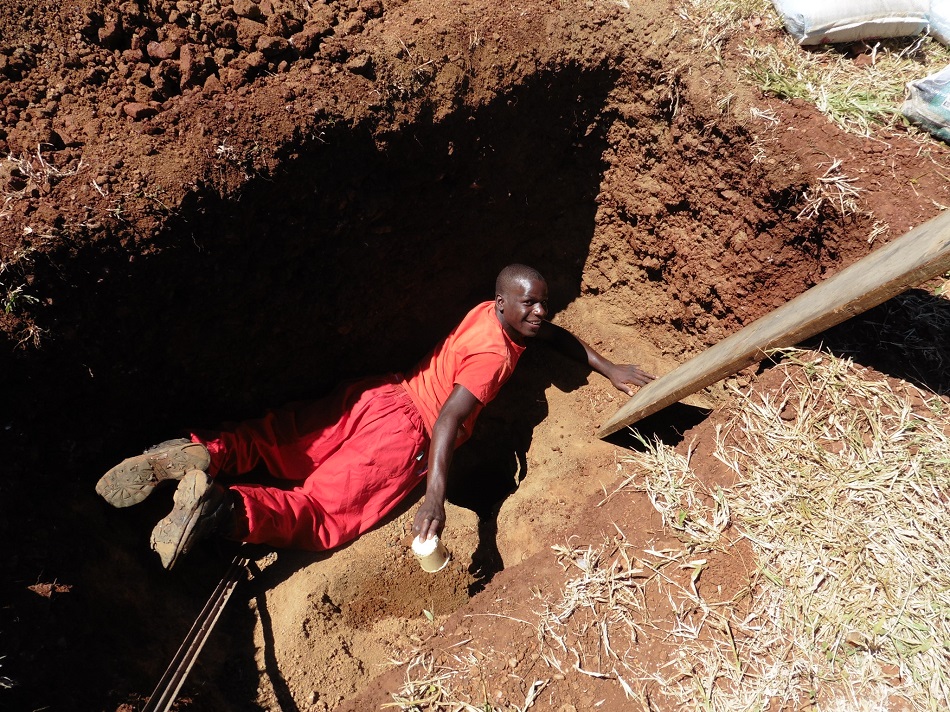 Preparing the hole to exact depth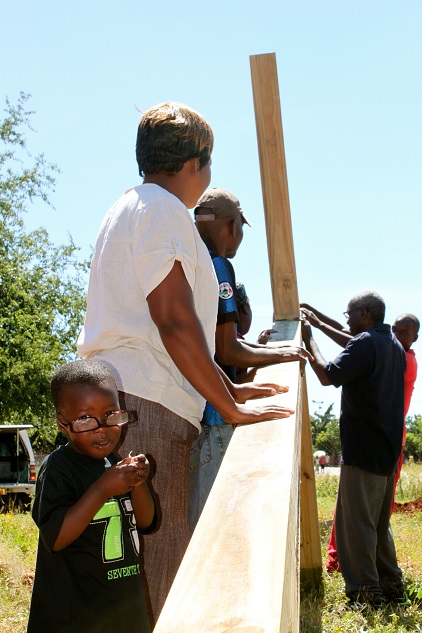 Tightening the nuts and bolts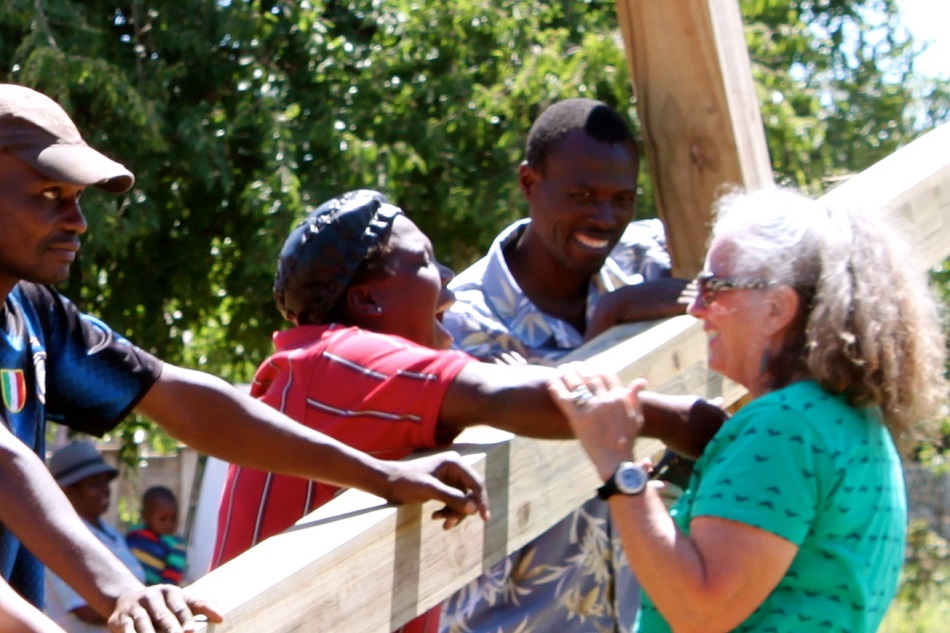 Sharing joy over the Cross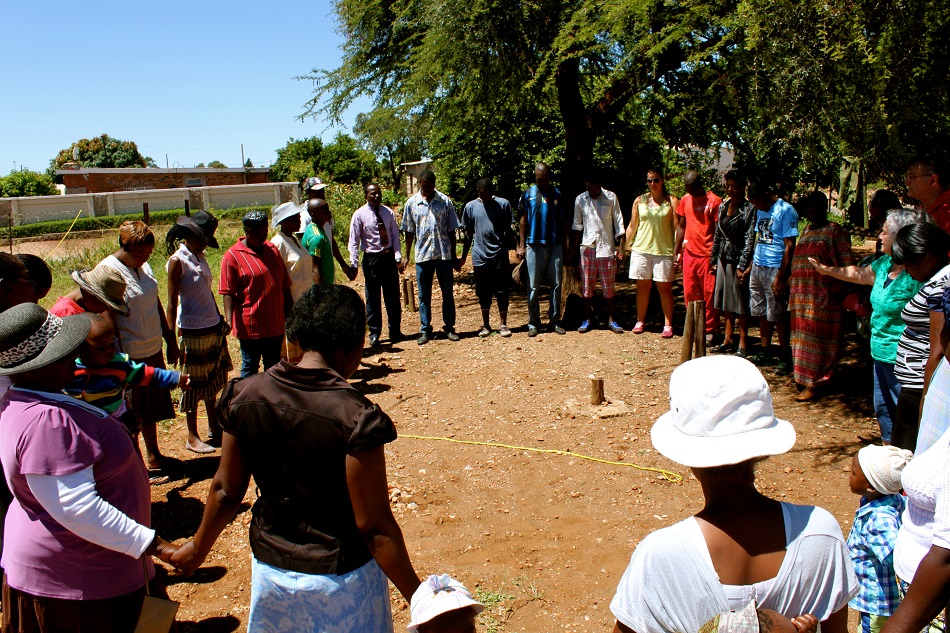 Team prayer in preparation for planting the Cross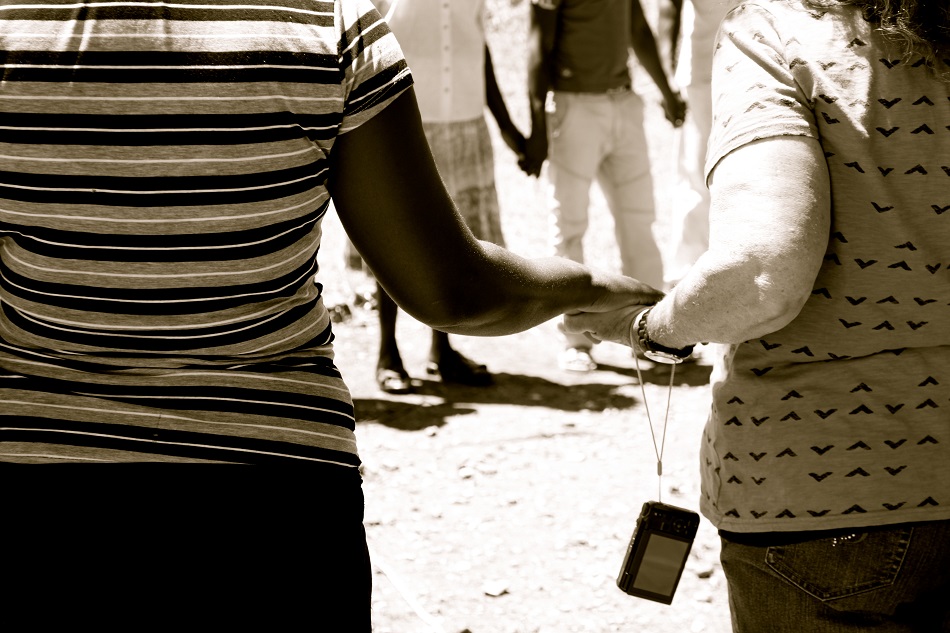 Spiritual bonding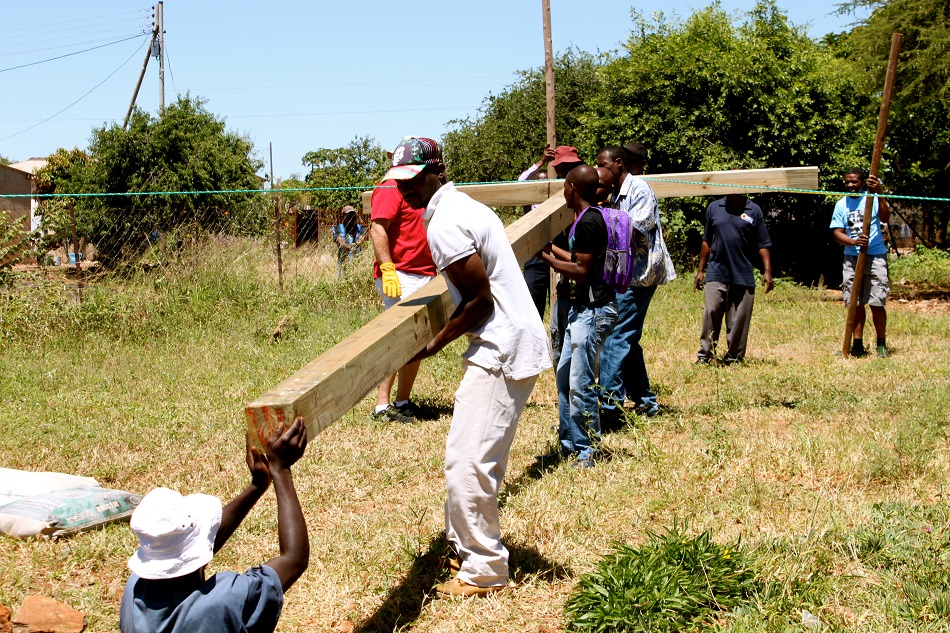 Placing the Cross in position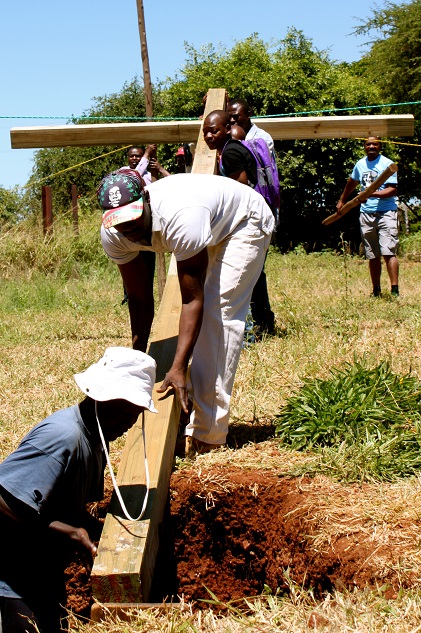 Tipping cross into the hole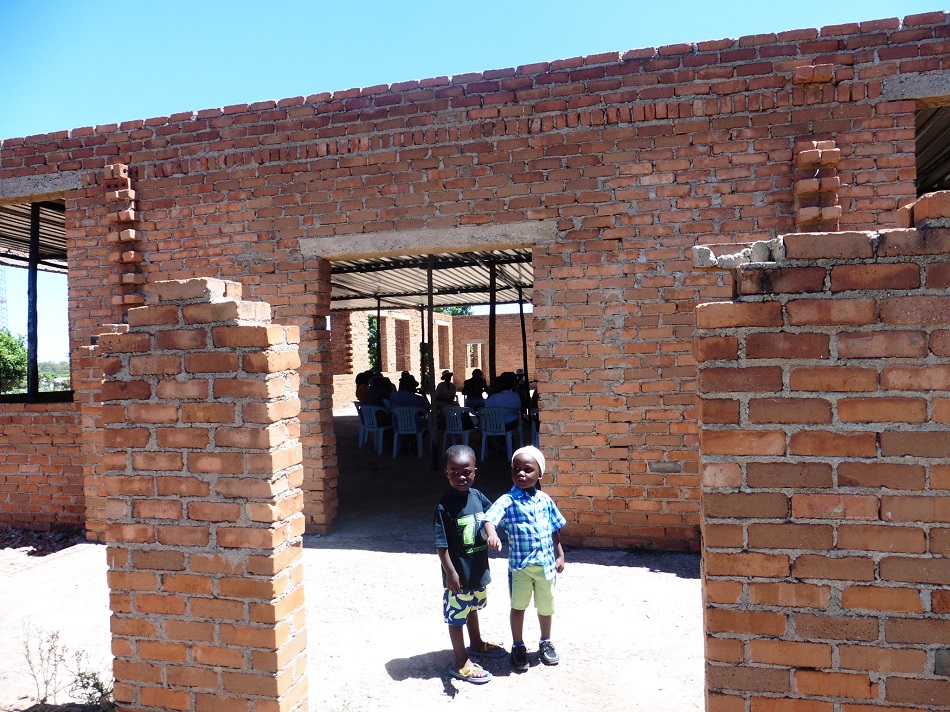 Two spectators look on while ladies pray in sanctuary, which is under construction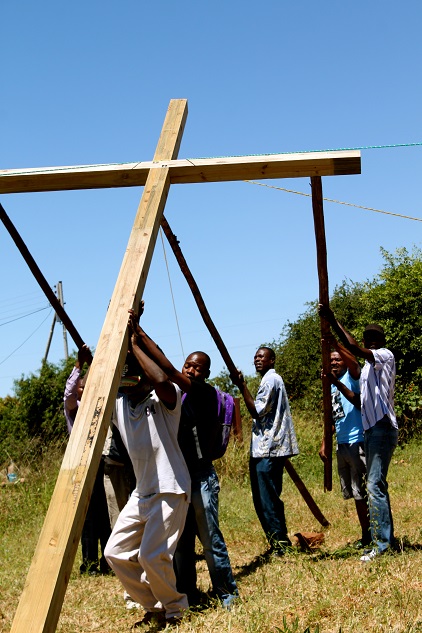 Lifting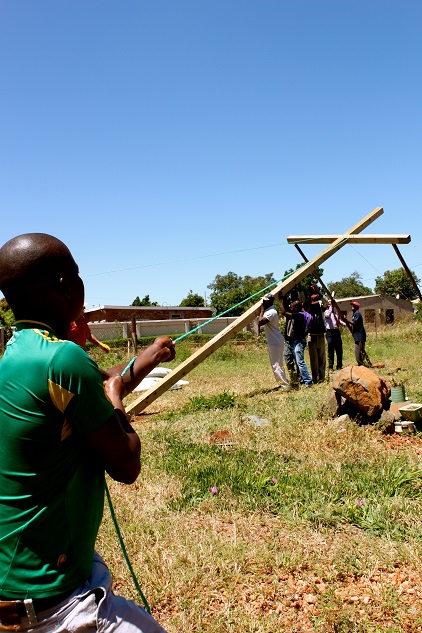 Pulling as the Cross is being pushed up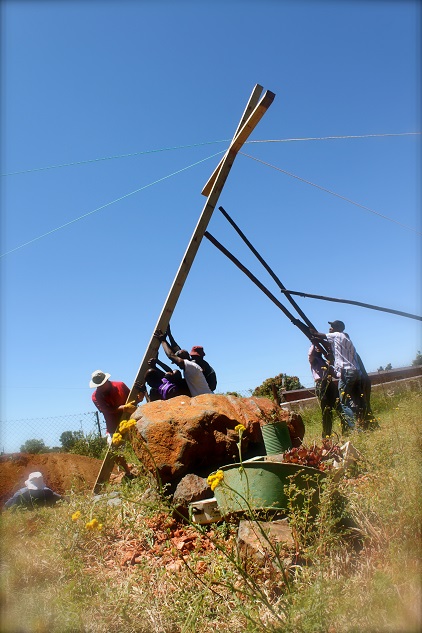 The final push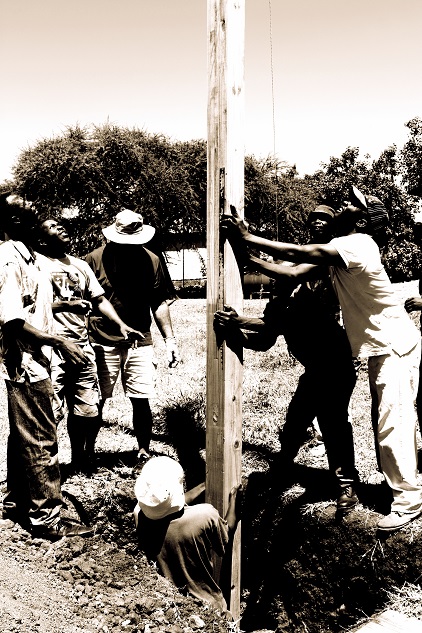 FIRE IN THE HOLE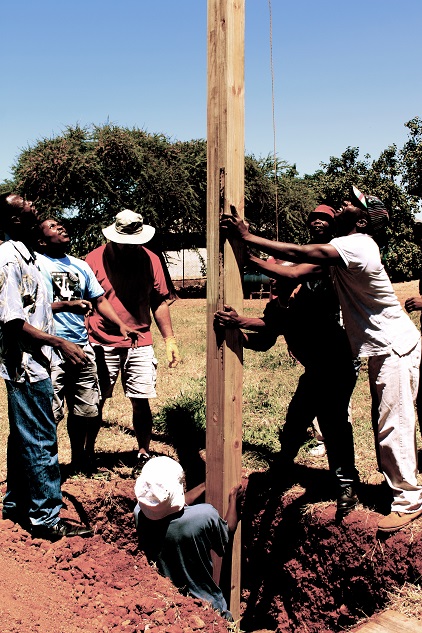 FIRE IN THE HOLE in living color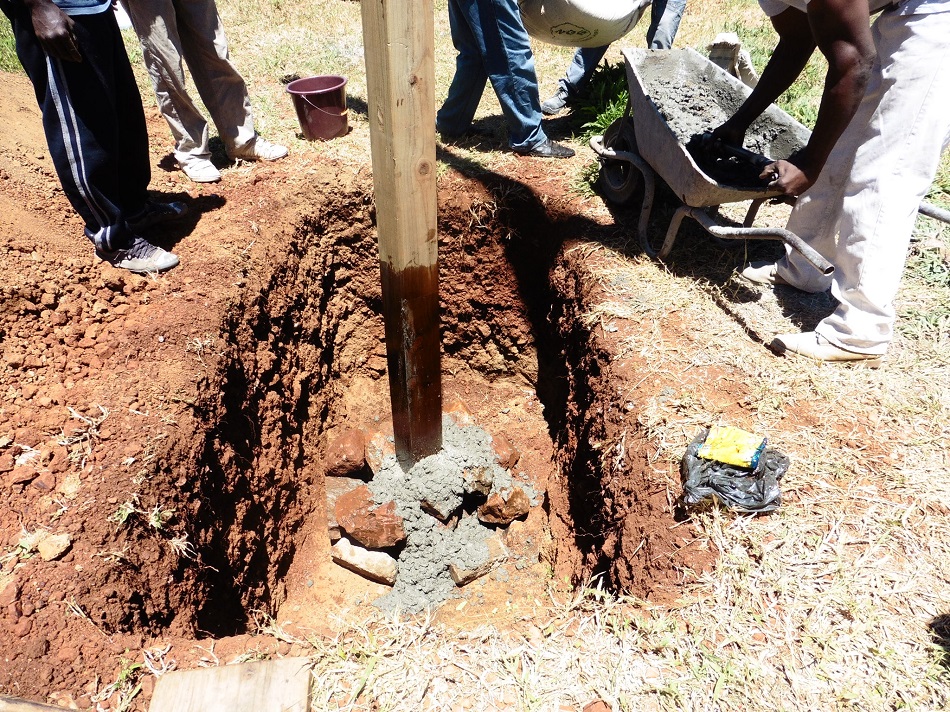 Rocks surround base of the Cross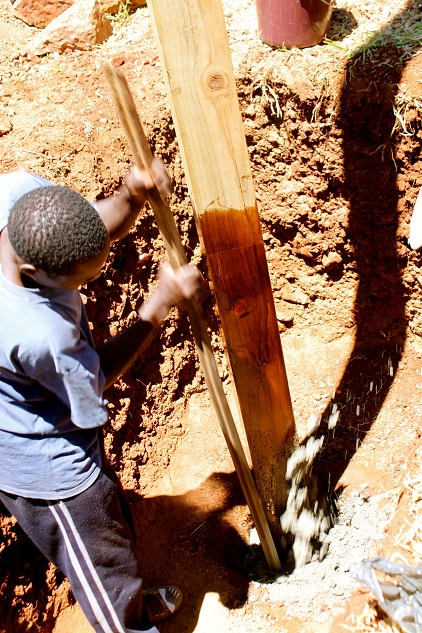 Concrete is poured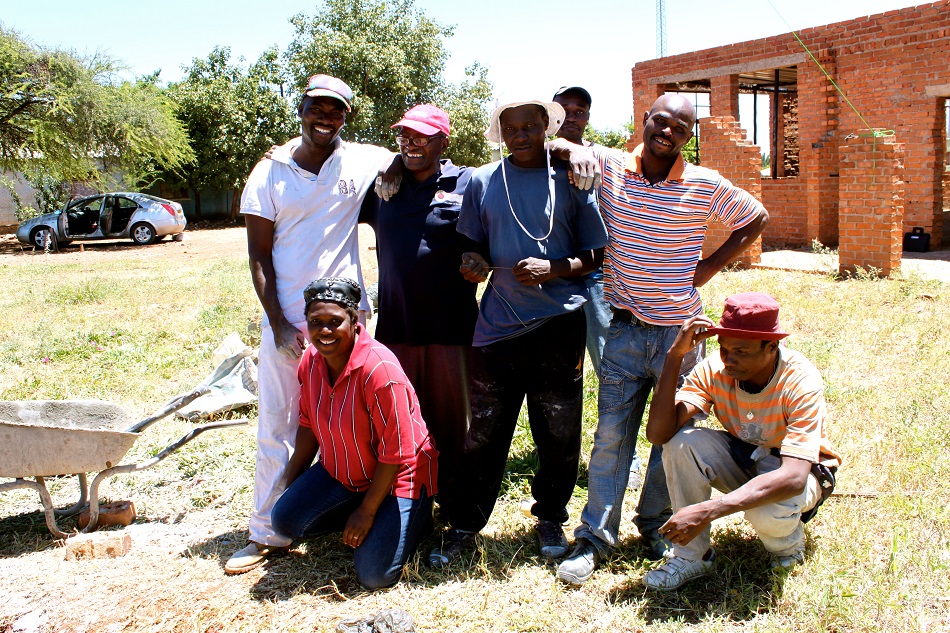 Cross planting team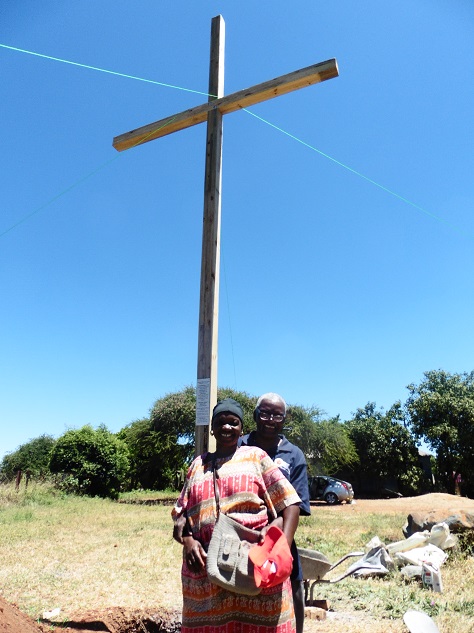 Pastors Temba and Julie Mapani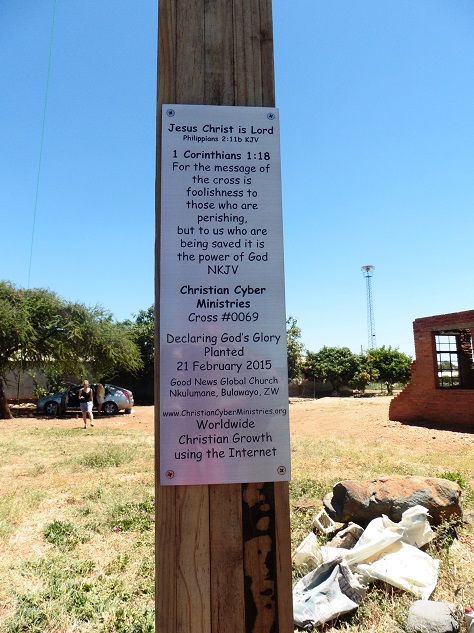 Plaque "Declaring God's Glory"
Photos by Pastor Carol and Twila from Ontario