ccm Cross 0052
May 22, 2013
Budejovice Church
(St. John's Chapel)
Montgomery, Minnesota
ccm Cross #0052

GPS/DNS 44.4383° N, 93.5813° W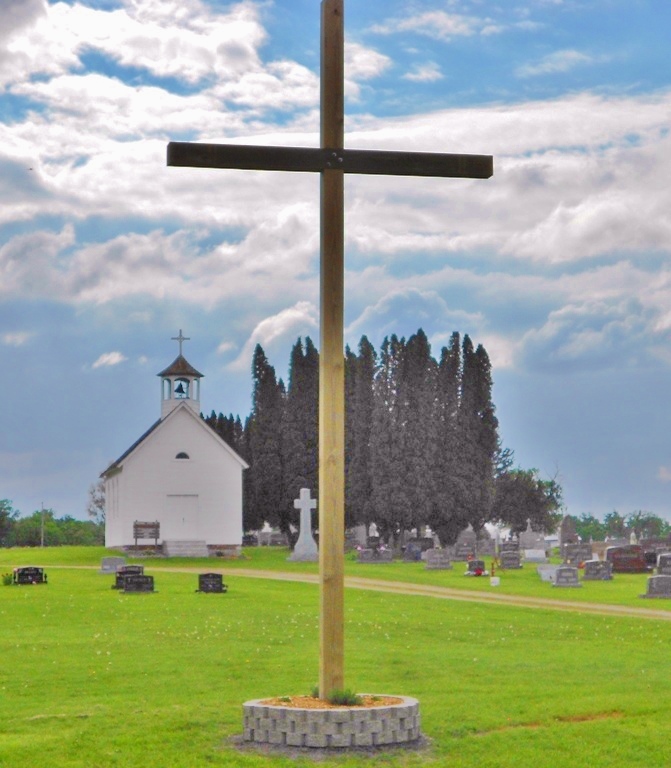 Additional photos after Testimony:

cdd 3282 Stage 4
Cyber Daily Devotion
Volume 14 Number 108
Today's Author: Pastor Bill
Scripture: Ephesians 3:20
" Now all glory to God, who is able, through his mighty power at work within us, to accomplish infinitely more than we might ask or think" NLT
The dictionary term "stage" can refer to the platform on a microscope that supports a slide for viewing or the platform on which actors perform in a theater.
But the meaning of Stage 4 relates to how cancer is summarized by severity. Stage 4 Cancer is the highest rating and generally means it has spread into areas that seriously complicate and challenge medical abilities to fight the disease.
My name is Greg Thomas and this is my ccm Cross Testimony of how throughout my life, whenever I went astray — Jesus gently with love and compassion healed my wounds and accepted me back into his arms. Most recently a healing of my Stage 4 Cancer.
I grew up in a church going Christian family. When the doors were open mom had us in church. Although I went through the motions it wasn't until my time in the Army that I learned what a personal relationship with Jesus Christ was all about.
I enlisted in the US Army during the Vietnam War and miraculously was sent to Schwabach, Germany, home of the 3rd Armored Division, after my initial training.  Jesus was looking out for me. He continued to watch over me as we were assembled on a Red Alert to head for Viet Nam. While sitting in our planes, on the German tarmac ready for takeoff, "stand down" orders were received.
One year later I returned to the USA and married my high school sweet heart. Together we returned to Germany with great expectations of life together. Jesus was smiling on me but peer pressure drew me away.
My wife and I soon yielded to peer pressure and joined the US Army drug culture. In a short time our relationship spun out of control. Soon I was dependent on drugs, my marriage was a mess and my life was going nowhere. I sat on the back of  my tool truck tailgate and cried to Jesus for help.
Suddenly a military man whom I had never seen before walked up to my truck and said "What's wrong with you brother?" I rebuffed him not once but twice. Then the third time he asked the question — in frustration I grumped at him, "why are you bugging me," His answer stunned me since only moments before meeting him I was crying my heart out to Jesus. His response is imprinted on my heart, "The Lord sent me here to you!"
Right then and there I received Jesus as my Lord and Savior. For the first time I understood what the power of the Cross was all about. Not only did I meet Jesus that day I also received the Baptism of the Holy Spirit — the fire of the Book of Acts. Speaking in tongues followed. The fire in my heart burned bright and I became hungry for the things of the Lord!
Unfortunately my wife never caught the same vision. Soon after completing my tour of duty we were back in the USA with our new born son — our marriage fell apart. Anger gripped my soul and I fell away from Jesus. But Jesus was not through with me yet!
My life's journey since discharge from the military has been ups and downs. Oh I've had spurts of the good things in life but also experienced the challenging side. I was in a car accident and broke my neck. Years of recovery followed. A motorcycle accident that should have broken my neck was next and years more of recovery followed. Seems whenever things were going good I was running from Jesus and when tragedy struck I was running toward HIM.
The most interesting part of all this is that Jesus was always a rock in my life. While I danced around trying "my own thing" HE never moved. Fortunately Jesus would always gently draw me back to HIM.
Four years ago I was diagnosed with Stage 4 Cancer in my neck and head. Chemo, radiation and anything else medicine could do was used. Finally I was told by my lead doctor, "there is nothing more we can do but make the short time left on this earth as pleasant as possible for you. The Cancer is spreading uncontrollably, I'm sorry — there in nothing more we can do for you."
Faced with my impending demise I resigned my position as a propane delivery man and
began preparations for life after death. As I began preparations Jesus became more real in my life than even while in the Army. Seemed like no matter what kind of mischief I was in I could always rely on Jesus to bail me out. So now I needed to set things straight to insure that when I died Jesus would be there to meet me.
Praying and walking my dog set a new precedent in my life. Sweet fellowship with the Lord followed as it was just the three of us. My dog Maggie, Jesus and me. These walks became a life-line for me and when all else failed once again there was Jesus to hold me up.
One day while walking I turned down a dirt road and stumbled (no coincidences in the Kingdom of God) upon a broken down church. The church was actually in worse shape than I was! The Lord placed a burden on me to restore this old church building before I left this earth.
I found the curator of the old church who is Don Rynda. As we talked about restoration for the church Don said, "we knew the church needed a lot of work to keep it going but we didn't have the money, energy or the time to restore it." We just prayed and asked the Lord to send someone. When Greg showed up at my door asking if he could restore the church at no cost to us — all I could do was say — Thank you Lord for answering our prayers."
Greg went to work scraping off up to 15 layers of paint placed on the on the outside of the church, over the past 140 years. Day after day, month after month. And the more Greg worked on the church — the better he felt. The more Greg sat on the concrete steps leading to the church in prayer — the better he felt. The more Greg spoke to Jesus and gave him glory for all that had happened in his life — the better he felt.
Today the outside of the church looks pristine and white. And then Boyd Huppert from KARE 11 TV in Minneapolis-St. Paul, Minnesota created a special short TV documentary about Greg. He documented the restoration of Greg and the church — it went viral throughout the internet. Over the next few months funds came in from all over the world to help Greg complete the restoration of the church. Next month, weather permitting, a new roof will be placed on the old church preserving it for another 100 plus years.
As for Greg he is doing just fine. He lives with a feeding tube in his stomach and when he is not working on the restoration of the church, he is giving God Glory speaking to whoever he meets. He tells them that as he restored the church for the Lord, He was restored to health to carry on for the kingdom.
And stage 4 — well that takes on a whole new meaning as Greg re-invented the term for Jesus:
Stage 1 —- Diagnosed with Cancer
Stage 2 —- Medicine did all they could
Stage 3 —- Greg restores the church
Stage 4 — Jesus restores Greg to health
Greg's favorite Bible verse is 2 Thessalonians 1:11-12:
"Because we know that this extraordinary day is just ahead, we pray for you all the time—pray that our God will make you fit for what he's called you to be, pray that he'll fill your good ideas and acts of faith with his own energy so that it all amounts to something. If your life honors the name of Jesus, he will honor you. Grace is behind and through all of this, our God giving himself freely, the Master, Jesus Christ, giving himself freely" MSG
For Greg the Cross represents the pivotal decision for mankind — receive the Cross and the Lord Jesus Christ and receive eternal life.
This specific Cross for Greg Thomas clearly means new life in Christ. New life for a broken down old church. New life for Greg who was broken spiritually, physically and mentally. And new life for the community as farmers from all around used a rain drenched day to "Give God Glory" over their farms, friends and families.
Editor note: Received the following email from Greg the day after planting the Cross:
Praise our heavenly Father!  All week I had been praying for dry weather for the cross planting. God in his infinite wisdom gave us rain; I didn't understand why? Towards the end of the day, I got my answer.  I was told that Don Rynda, Bob Krocak, Marty Krocak, George Denn, Wayne Schwartz, and David Maki would of not been present if it was dry, as they would of all been in the field planting! They were all crucial, for the cross planting! Thank you Father, for un- answered prayers! Bless your day, Pastors Bill and Carol, I am still weeping today- as I think of God's Glory! In Christ, Greg
Prayer: Father thank that for Greg Thomas Jesus turned a negative Stage 4 into a newly defined Stage 4 that Greg can live with.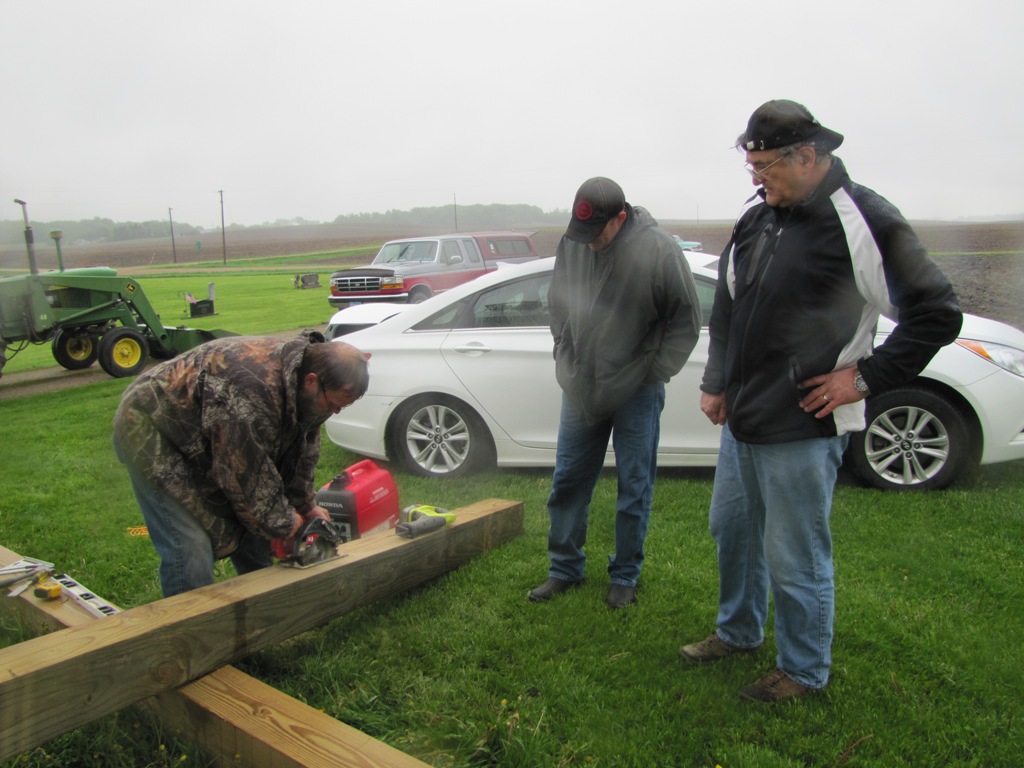 David Maki trims out the Cross intersection notch
with a Skil Saw as Kirk Gassen and Pastor Bill look on.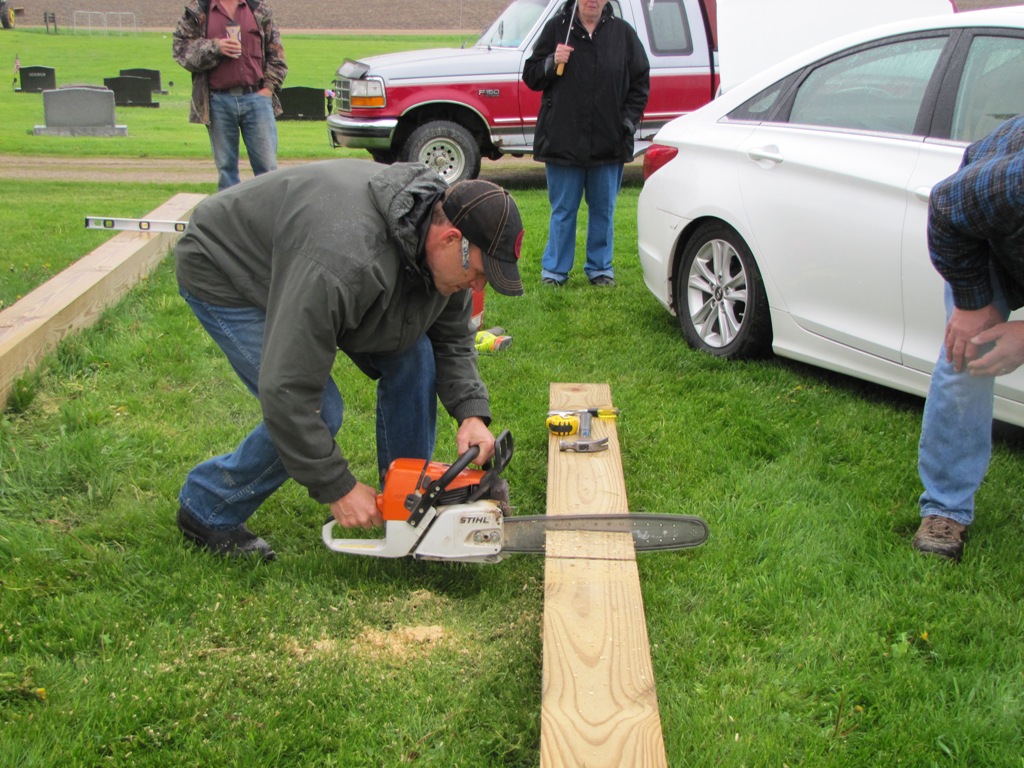 Kirk Gassen uses a chainsaw to complete
the Cross intersection notch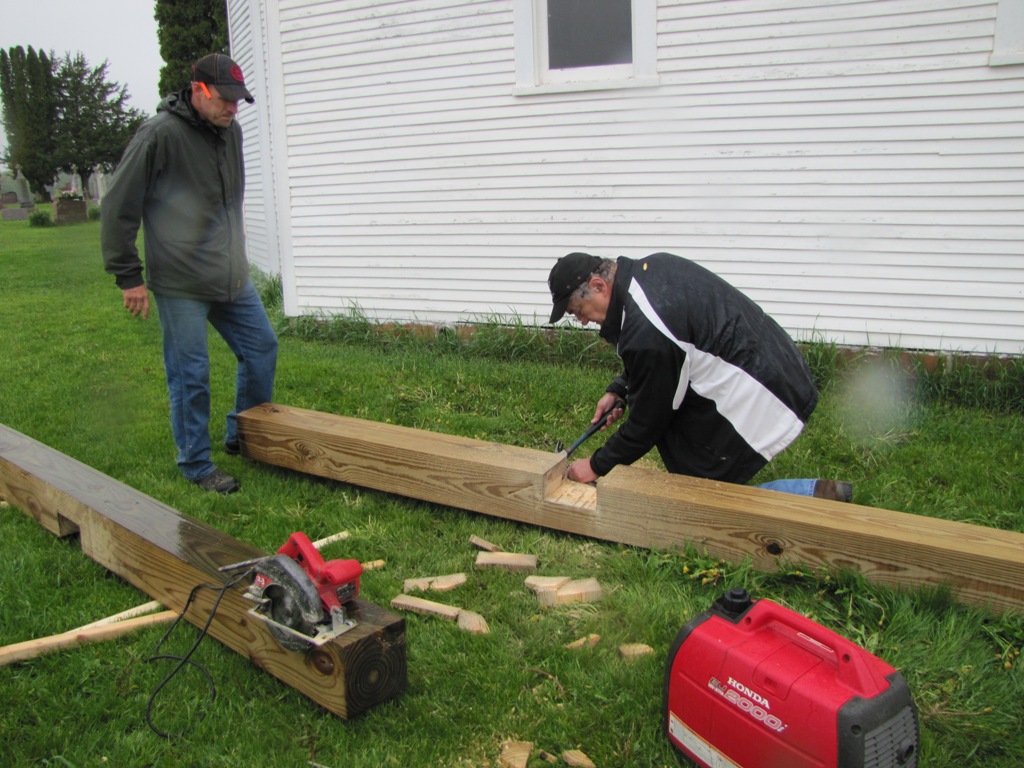 Pastor Bill chisels out final pieces
as Kirk Gassen looks on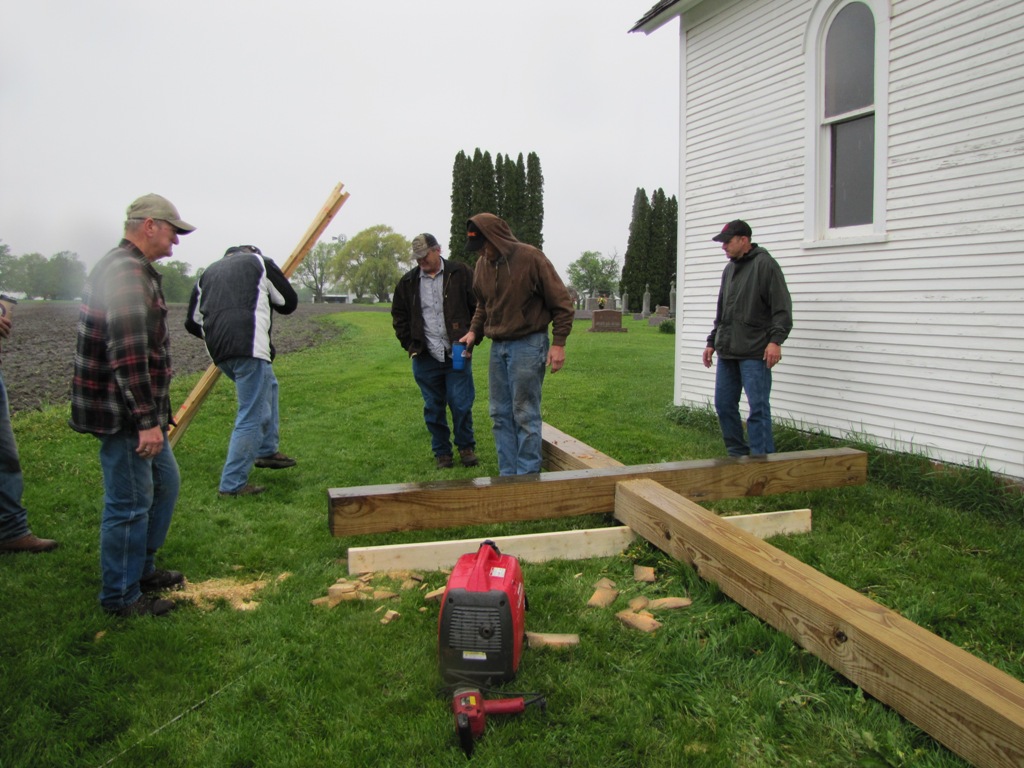 Left to right:
Greg Thomas, Pastor Bill, George Denn, Wayne Schwartz
and Kirk Gassen prepare beams for nuts, bolts and washers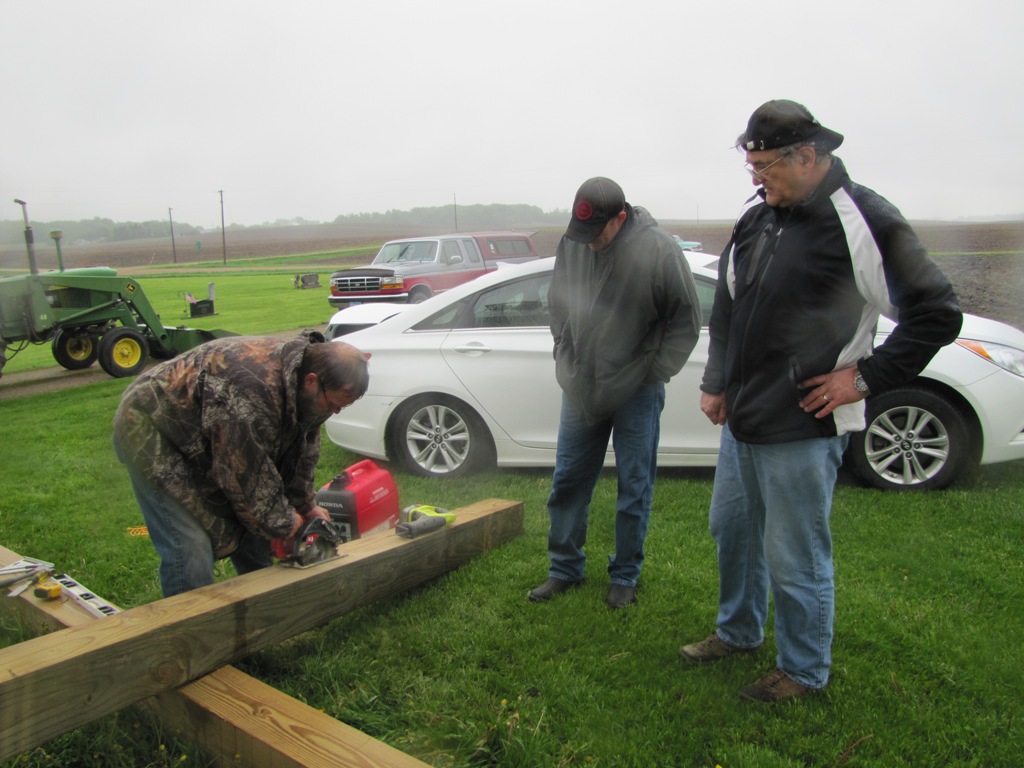 Kirk Gassen drills holes for nuts and bolts as
David Maki and Pastor Bill look on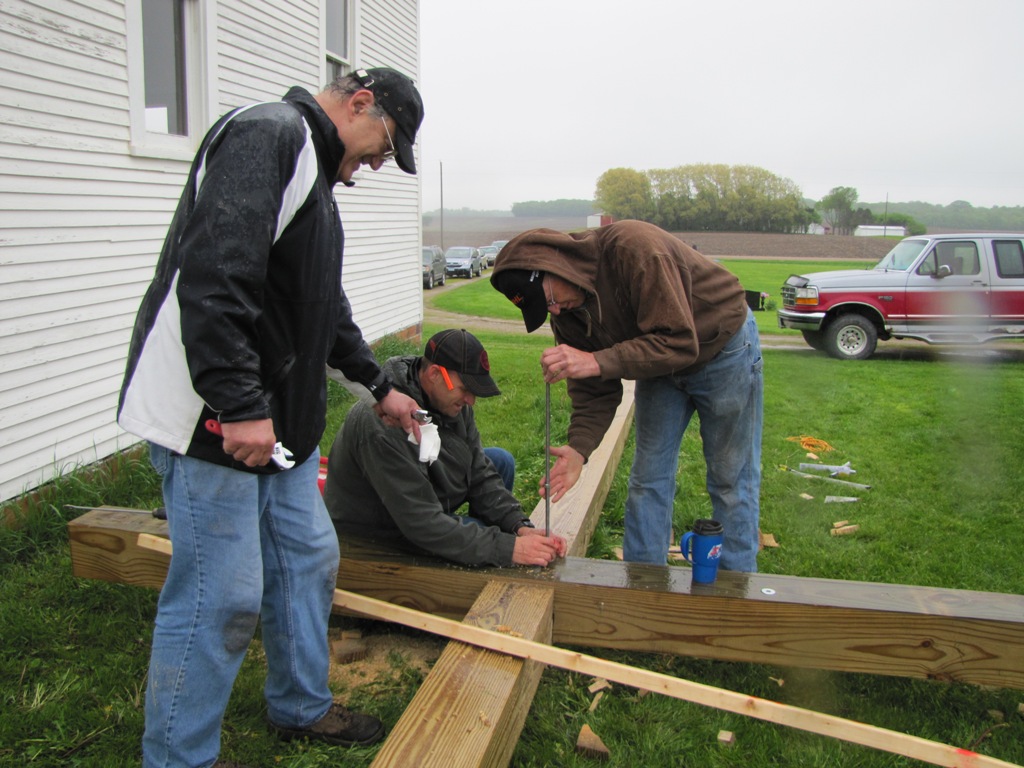 Wayne Schwartz on the right and Kirk Gassen kneeling
attach washers and nuts as Pastor Bill looks on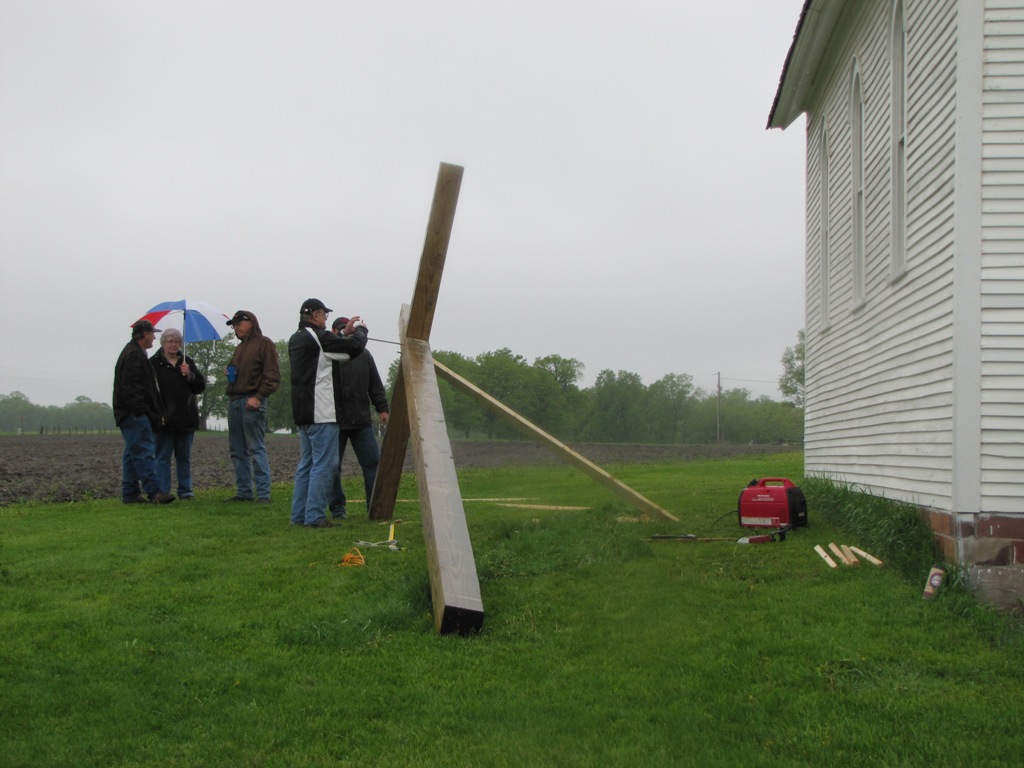 Pastor Bill inserts threaded rod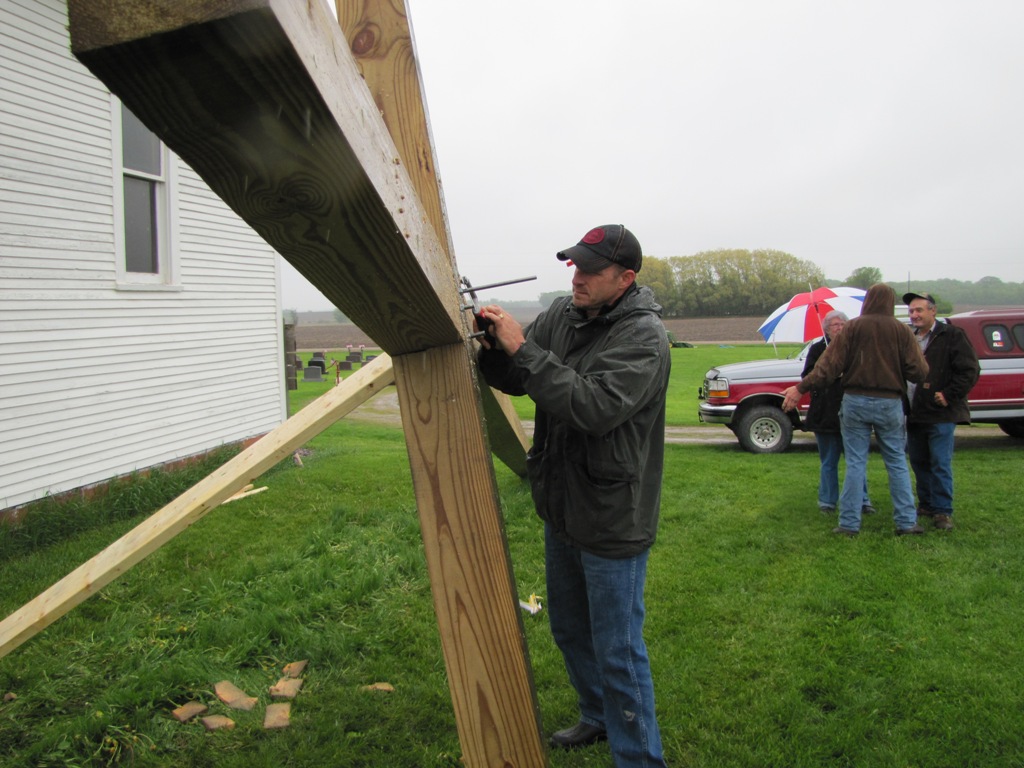 Kirk Gassen trims excess from threaded rod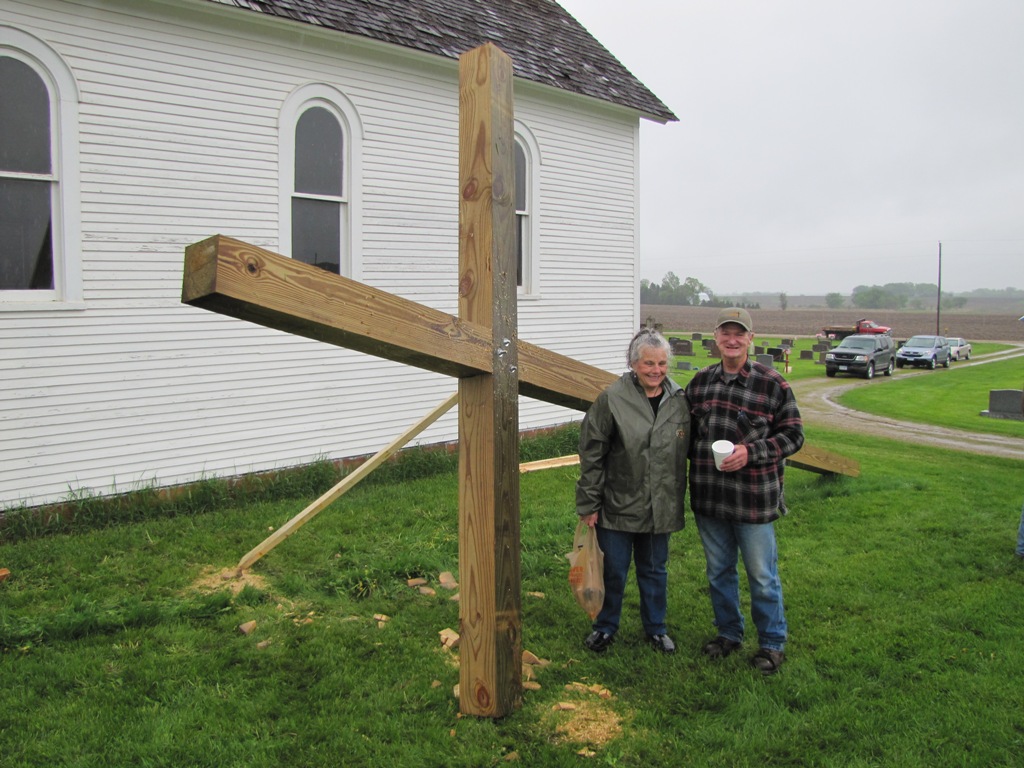 Pastor Carol with Greg Thomas inspect the Cross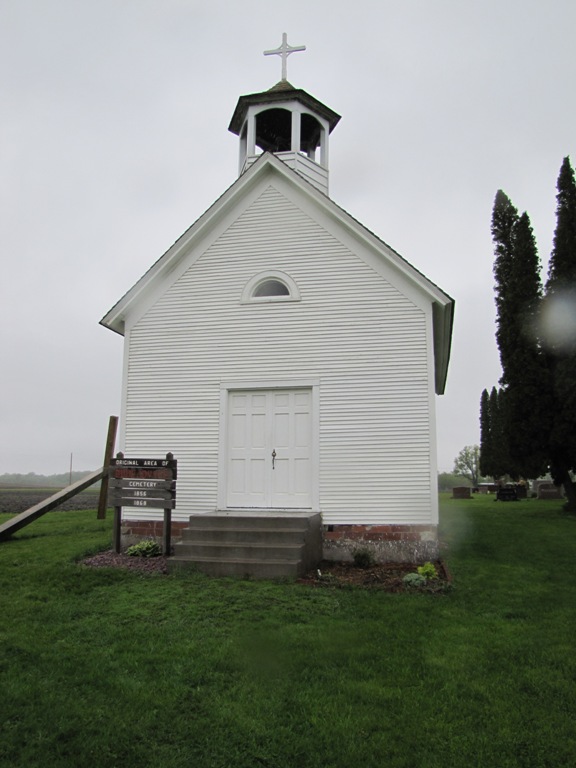 Budejovice Church
(St. John's Chapel)
which Greg Thomas rebuilt as the
Lord rebuilt him by healing his Stage 4 Cancer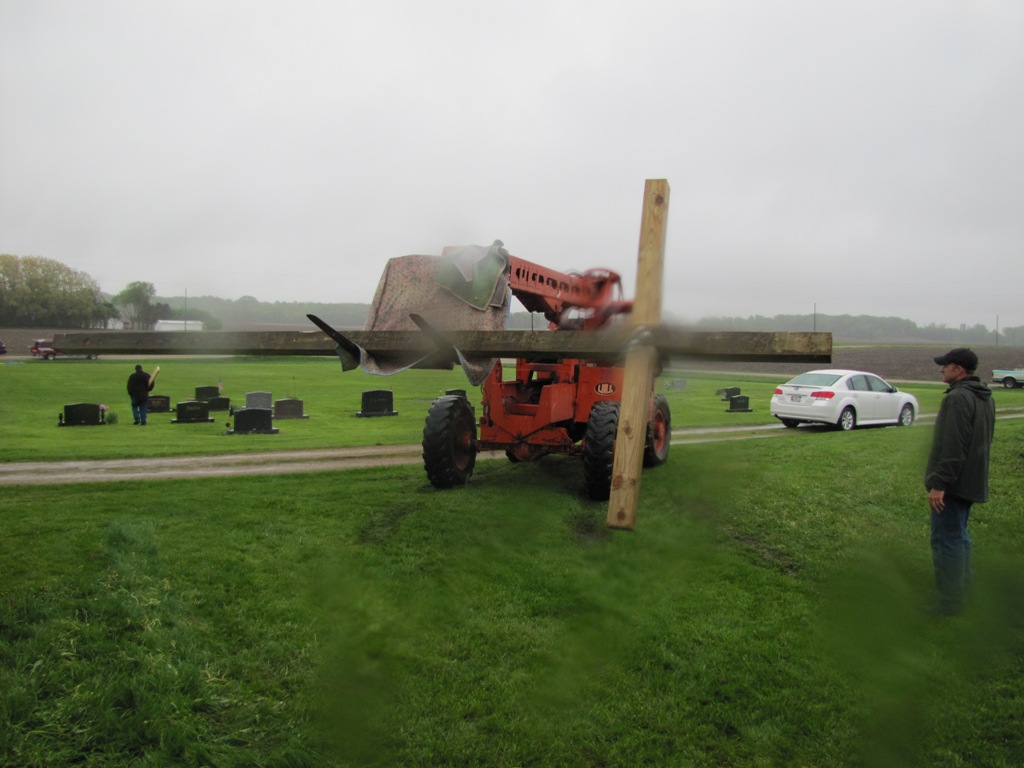 Bob Kroack with his Lull tractor re-locates
the Cross as Kirk Gassen looks on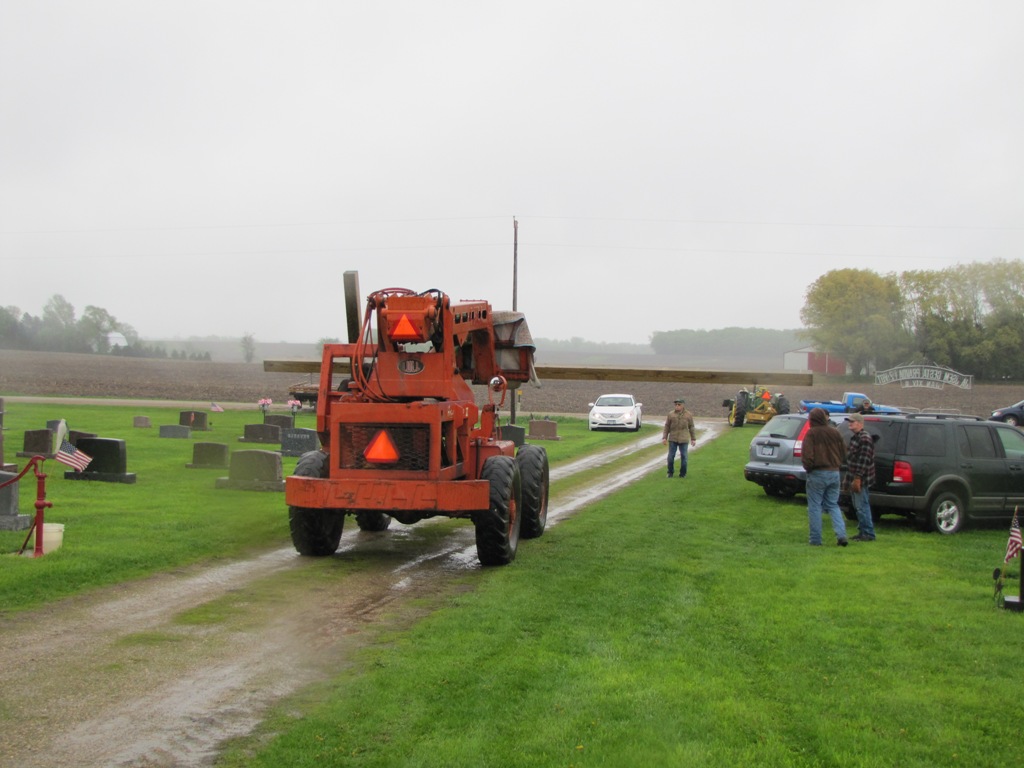 Moving the Cross down the road toward the hole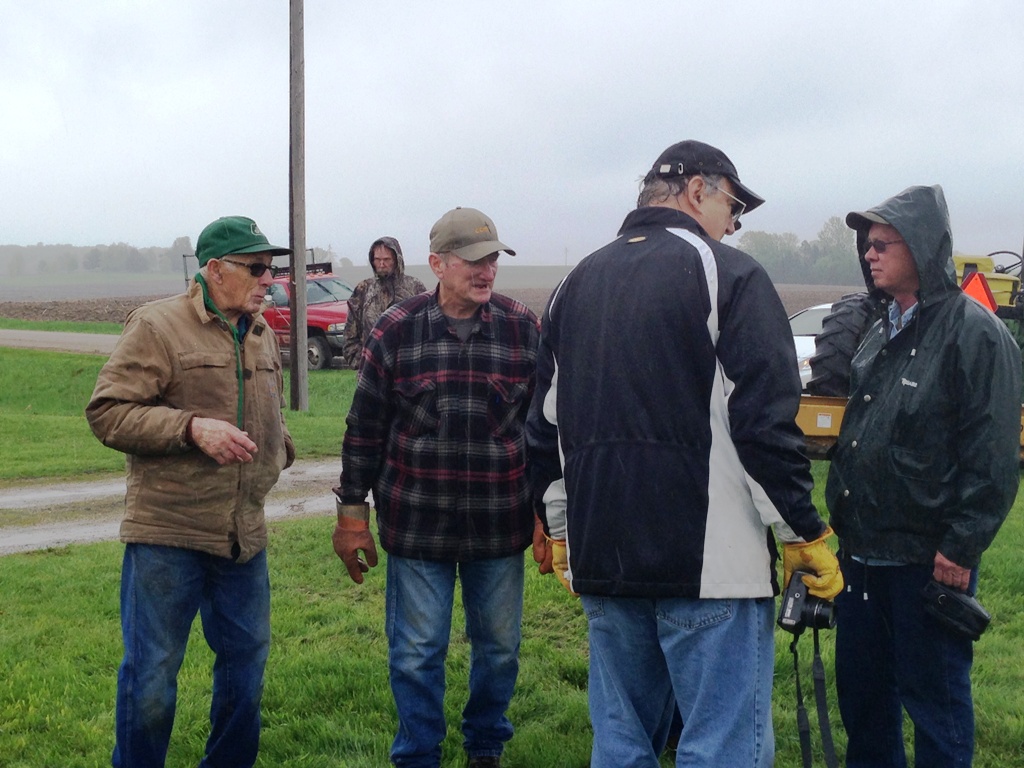 Left to right:
Don Rynda, Wayne Schwartz, Greg Thomas, Pastor Bill
and Dave Cooner discuss the significance of
Jesus dying on the Cross for each of us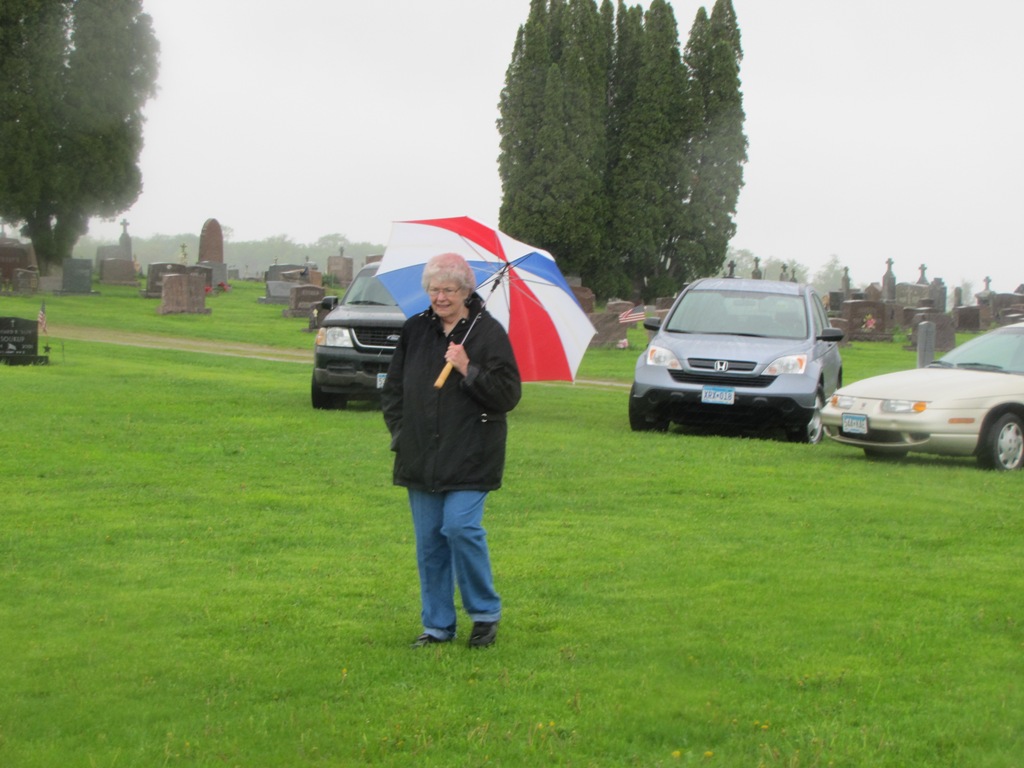 Dar Klein seeks shelter from the rain as she watches the action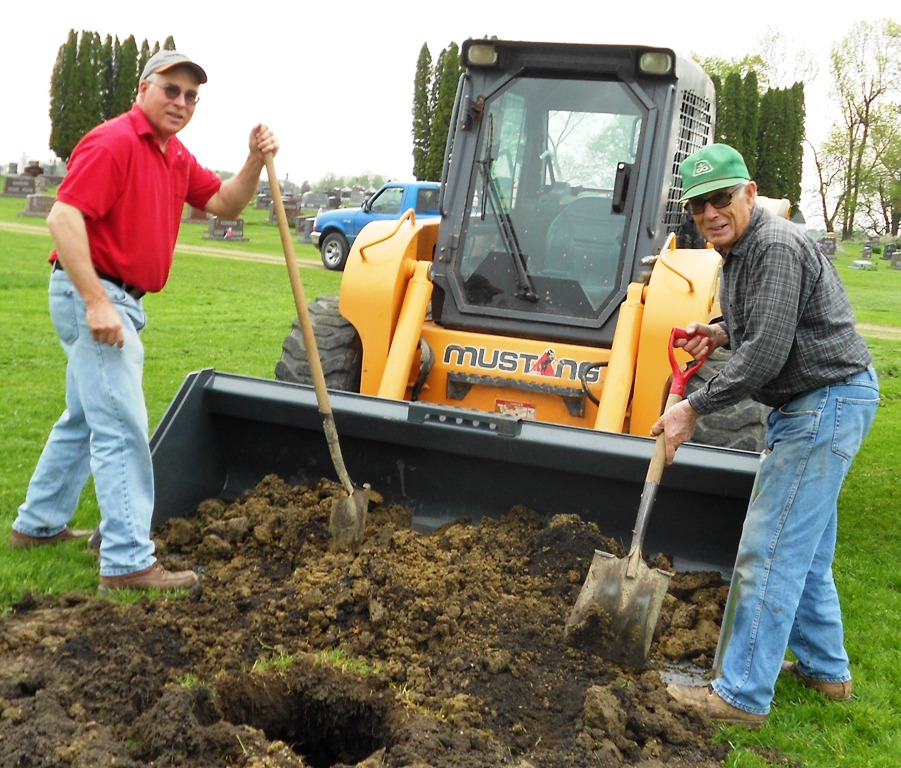 Several days before we arrived Bill and Don Rynda
prepared the hole for the Cross
Bob Kroack positions the Lull to pick up Cross
as Wayne Schwartz , George Denn and Kirk Gassen look on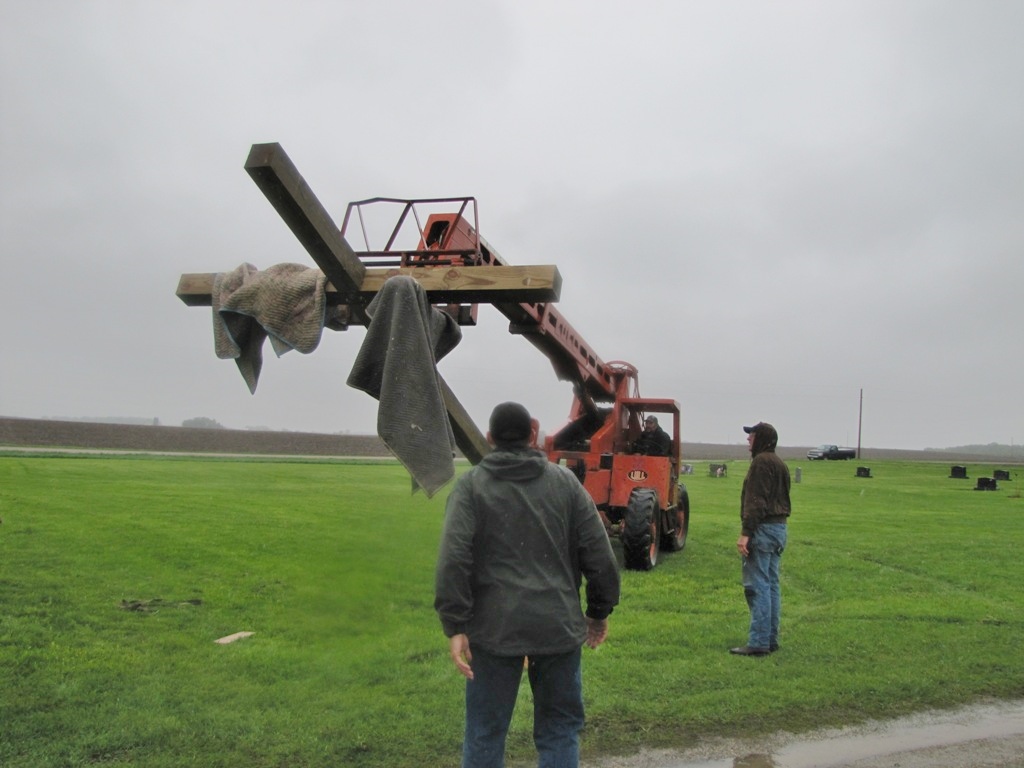 Lifting the Cross into position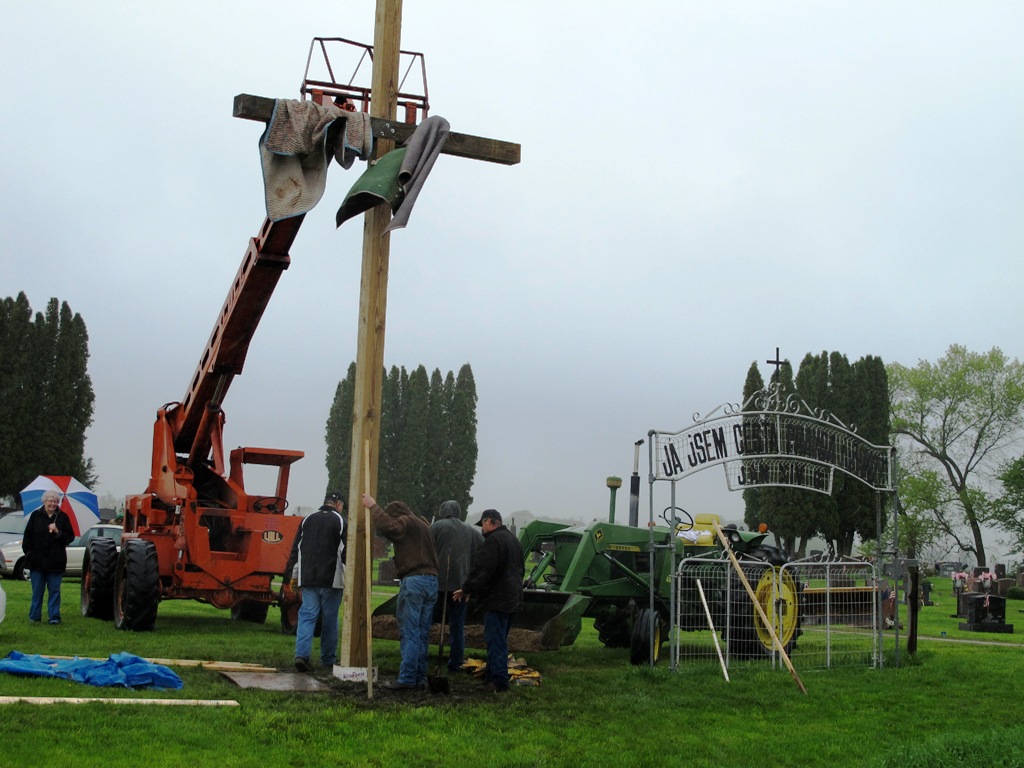 Cross dropped in the Sonotube
"FIRE IN THE HOLE"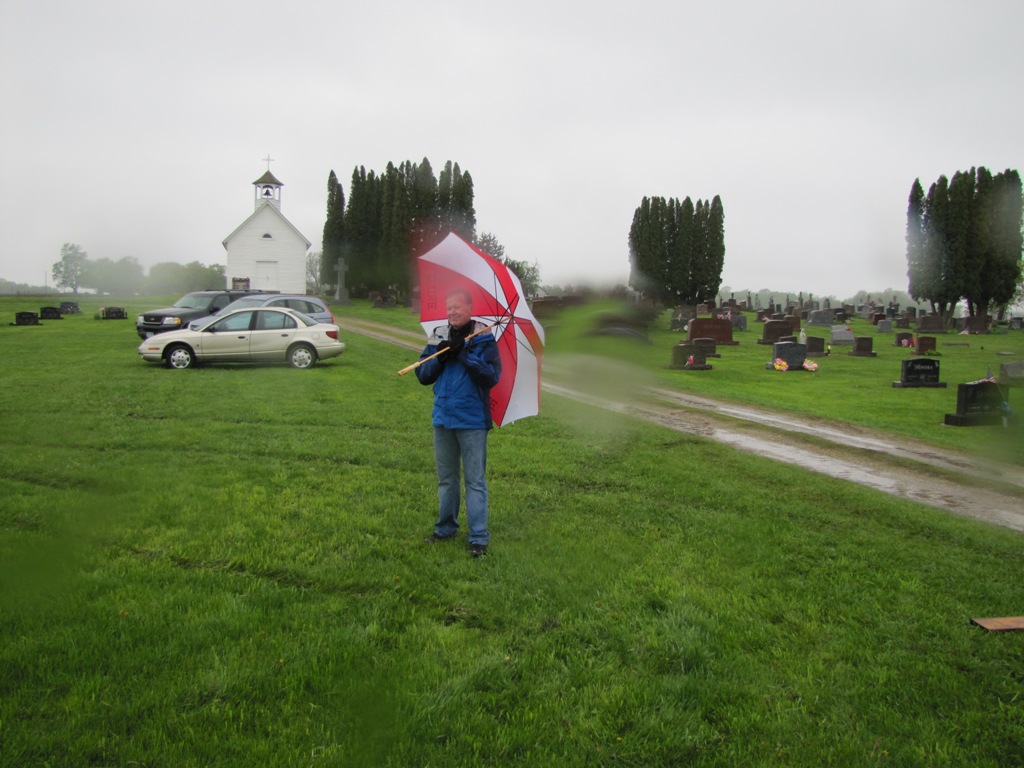 Phil Saari Greg Thomas' brother-in-law
looks on as the rain continues to fall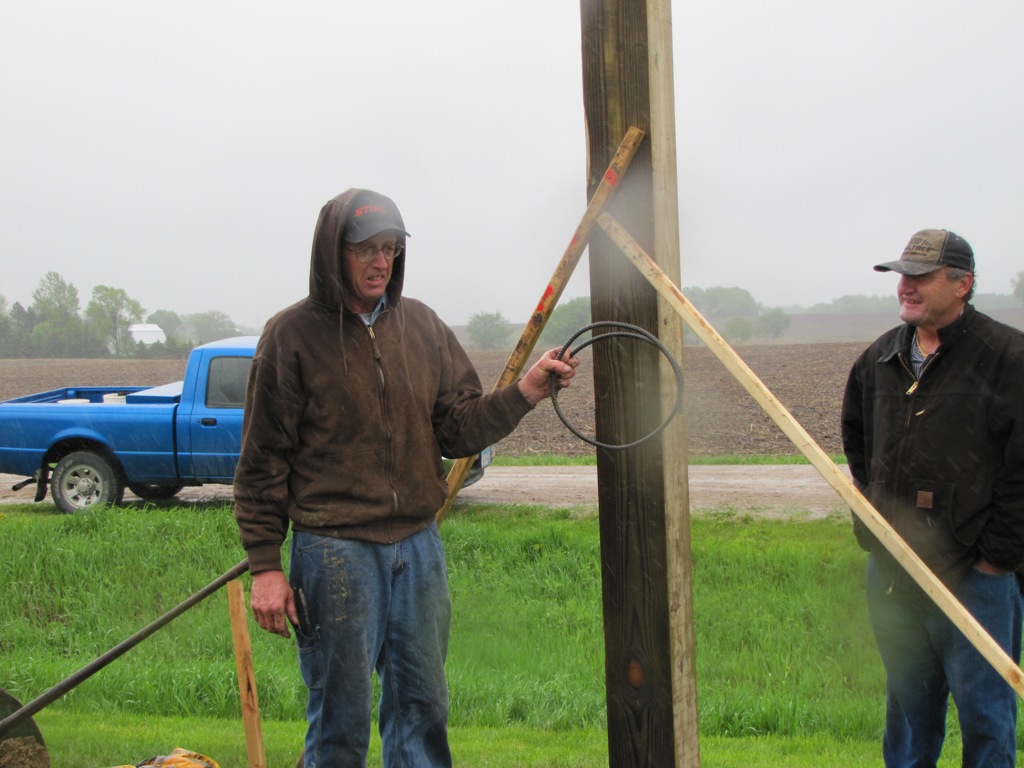 Wayne Schwartz creatively fashions a circular re-rod
to help re-enforce the concrete as George Denn looks on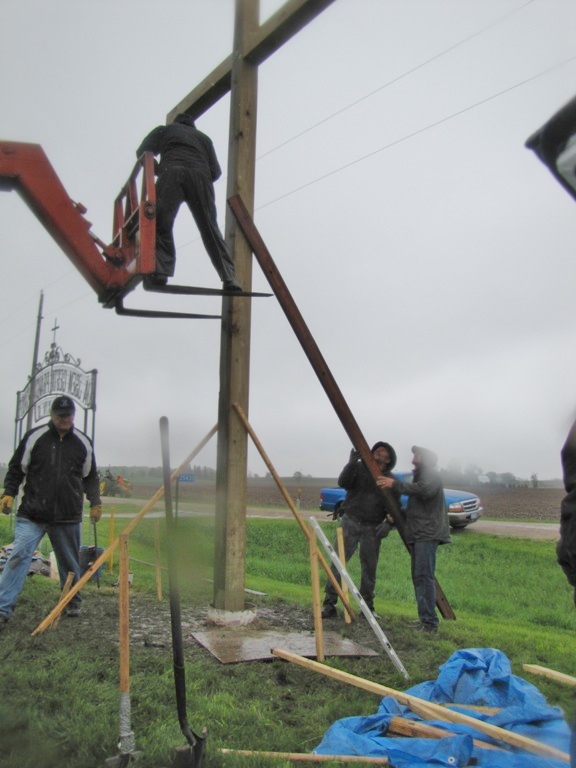 Marty Kroack secures the cross with
four 16 foot 2×8's to insure stability for
the next couple of weeks.
Then they will be removed.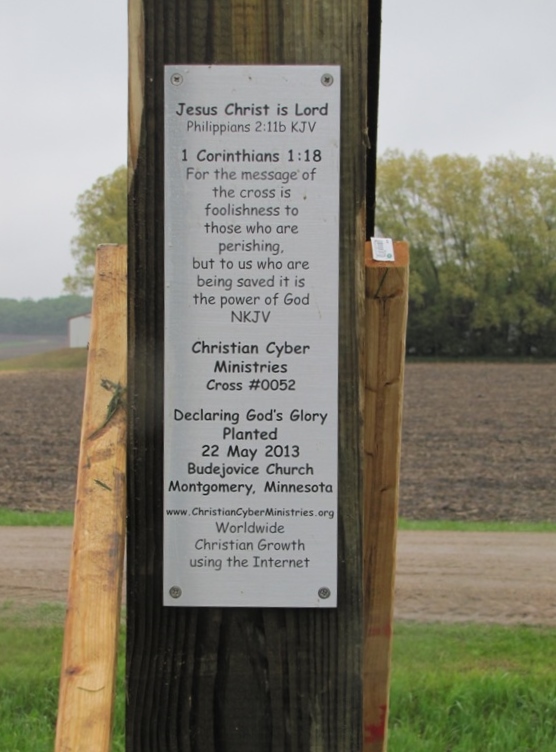 Plaque on the Cross "Giving God Glory" for
healing Greg Thomas of Stage 4 Head and Neck Cancer
and for the St. John's Chapel restoration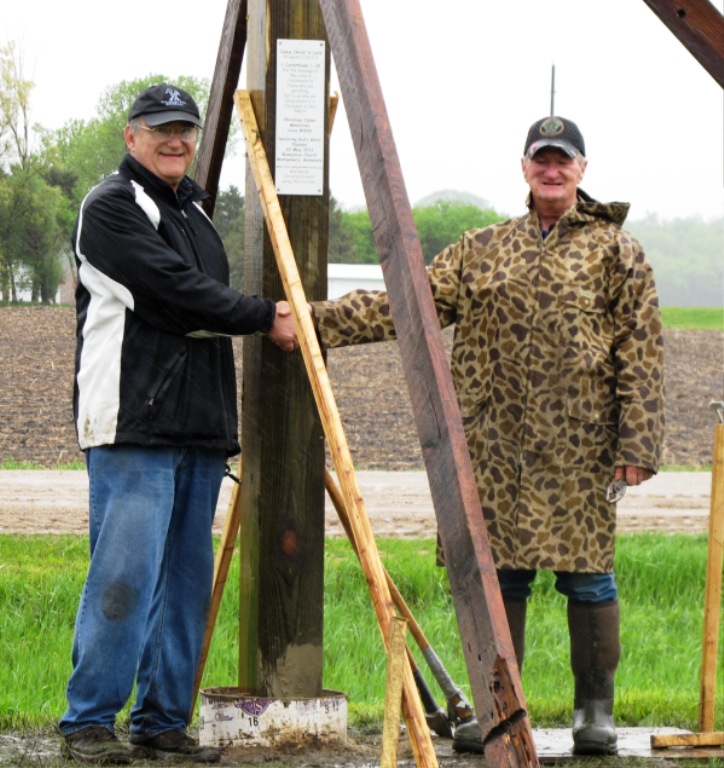 Pastor Bill and Greg Thomas meeting
at the Cross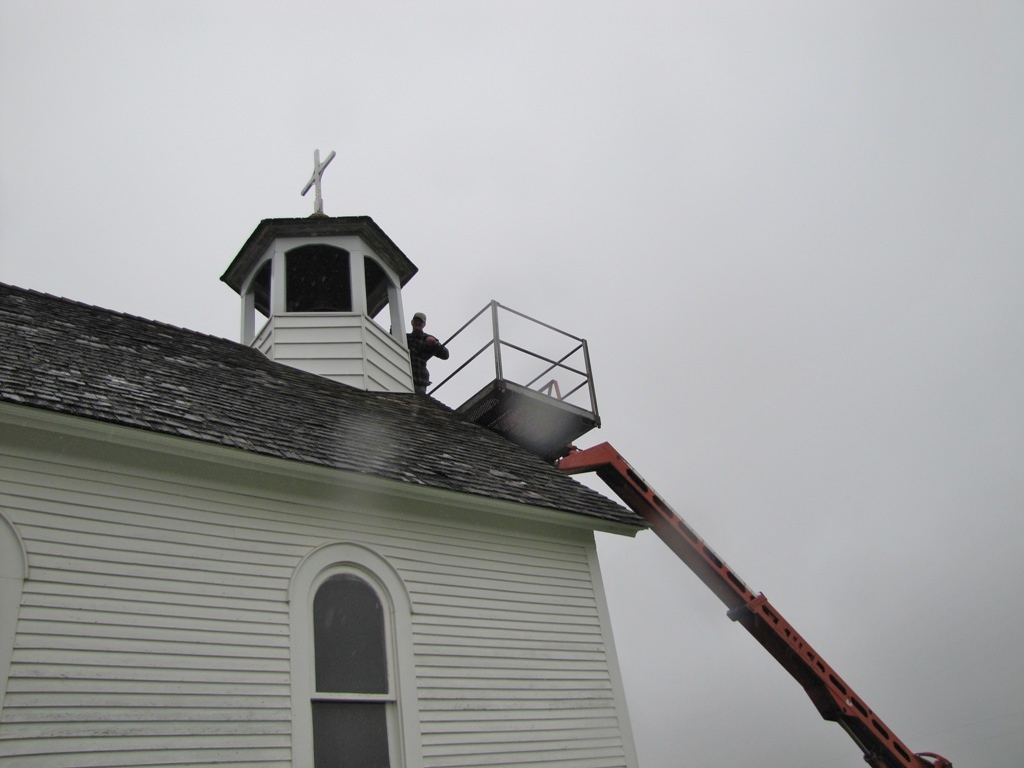 Greg Thomas took the opportunity using the Lull tractor
attaching a rope to the more than 100 year old bell.
As we planted the Cross today the bell was wrung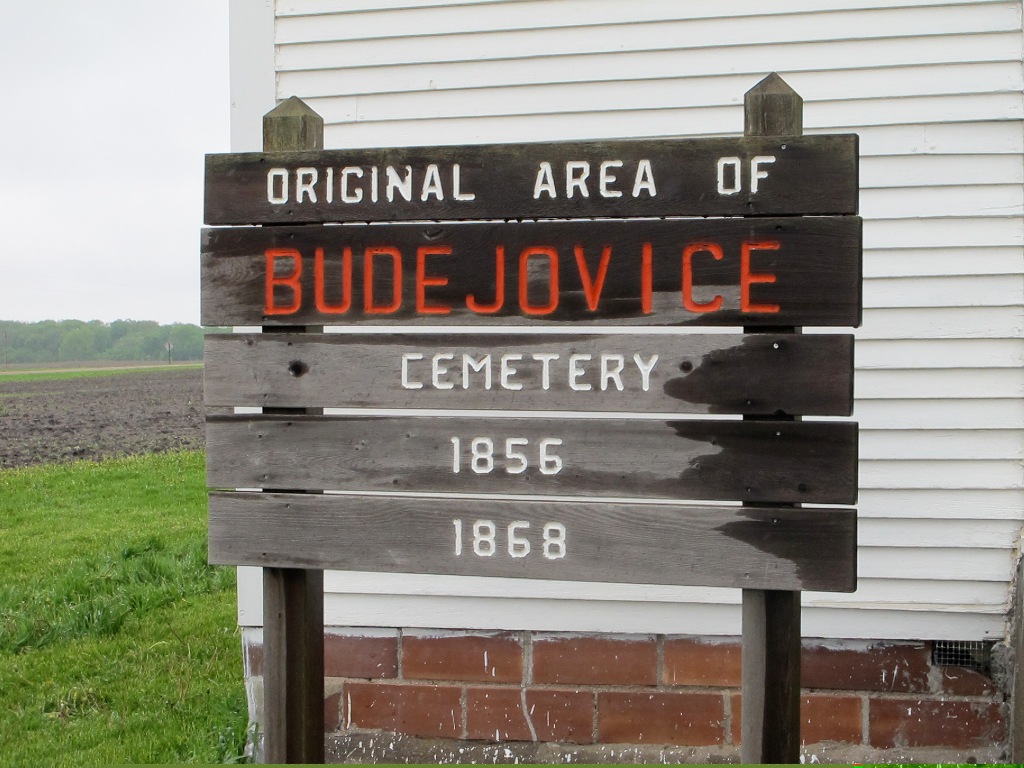 The Church and Cemetery area were a 3 Acre gift
more than 100 years ago from the Mariska family.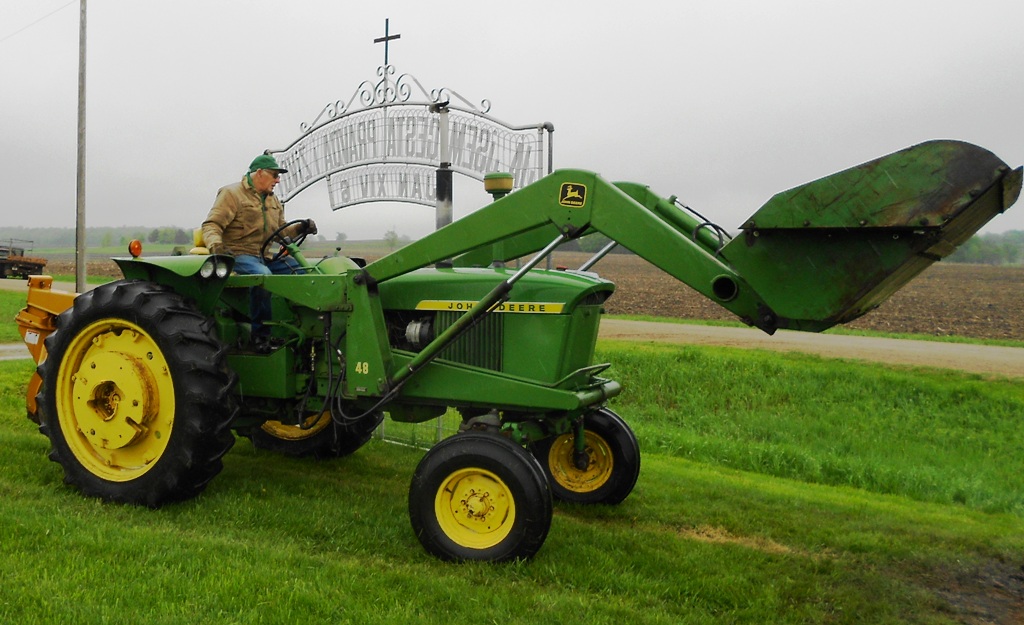 Don Rynda is the Executor of the cemetery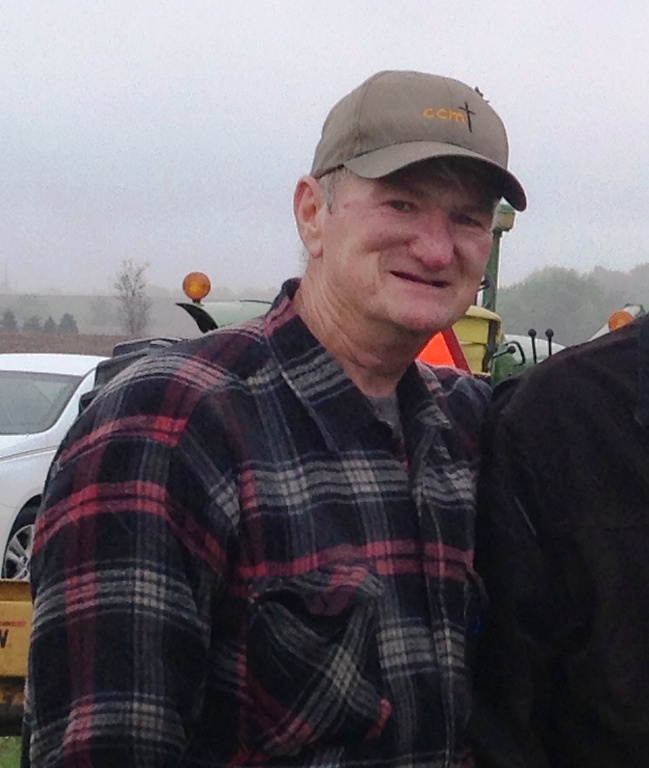 Greg Thomas thanks the Lord Jesus Christ for saving his soul
and healing his Neck and Head Cancer. And he wants to thank everyone
who contacted him, after watching his story,  which was
captured by Boyd Huppert of KARE 11 TV in
Minneapolis-St. Paul which went viral
throughout the internet.
Editor Note: Received the following email from Greg the day after planting the Cross:
Praise our heavenly Father!  All week I had been praying for dry weather
for the cross planting. God in his infinite wisdom gave us rain;
I didn't understand why? Towards the end of the day, I got my answer.
I was told that Don Rynda, Bob Krocak, Marty Krocak, George Denn, Wayne Schwartz, and David Maki; would of not been present if it was dry, as they would of all been in the field planting! They were all crucial, for the cross planting!
Thank you Father, for un- answered prayers! Bless your day, Pastor Bill and Carol,
I am still weeping today- as I think of God's Glory! In Christ, Greg